"Corvus" is the genus name for birds like crows and ravens. They are incredibly intelligent, social birds that can puzzle through problems with aplomb.
And these are all traits we seek within our own dogs – stable social relationships with their families, thinking through problems, and communicating with their humans. Malamutes with a zest for adventure, training, and new experiences. Malamutes that can nap on a couch. 
Mission
To provide Alaskan malamutes capable of working the trail or holding up the sofa while honoring the breed's standard
Vision
The American Kennel Club (AKC) has a written "standard" - a description of the physical and mental traits that makes a dog a "malamute" and not a "husky". Within that standard, we seek to promote calm temperaments, sound structure, and a drive to work.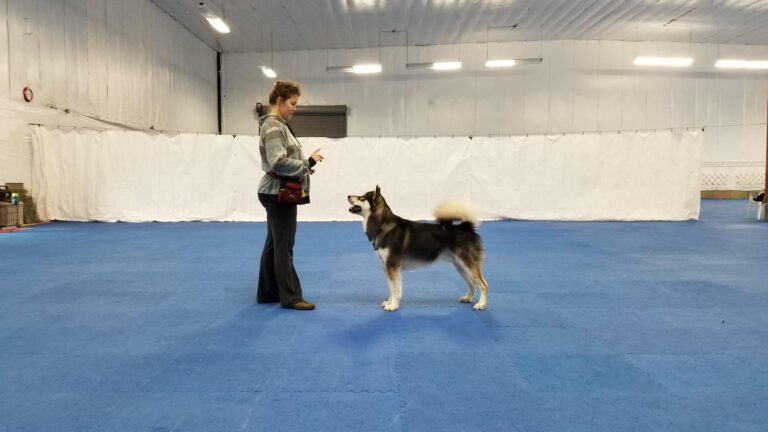 Vee Blackstone is a wildlife ecologist that wanted a wolf when she was an emotional pre-teen. Her mother wisely said "No." So she researched all the dog breeds she could in the days before the Internet and decided an Alaskan malamute would make a good stand-in. Wolfy in appearance yet calmer than Siberian huskies. That first dog, Kayla, taught her a lot about having a dog. But, eventually she went off to college and Kayla stayed with Vee's dad, who loved her deeply. 

Fast forward an unspecified number of years, and Vee and her partner Marc decided to get a dog! Vee of course went right back to malamutes, and brought home Kira. Kira had some health problems, but that didn't stop Vee and Kira from earning a NACSW Nosework 1 title! Shoku joined the pack and partnered with Vee to earn trick dog titles and the world of dog-powered sports.  After Kira had crossed the Rainbow Bridge, Vee decided to try the show ring, and Renka flew from the Netherlands to try her paws at becoming an American Kennel Club Champion. 

Through all of these dogs, Vee has sought a deeper understanding of malamutes and how dogs learn. 
Corvus Canines supports equal treatment of all peoples regardless of race, ethnicity, sexual identification, gender identification, neurodiversity, or physical ability.