Puppies in our JOURNEY litter were born on 12/1/2022 while the first snow of the winter drifted down onto the Willamette Valley.  Renka gave us four boys and one girl, ready to go to their new homes around February 1 2023. Puppy picks are made by Corvus based on your application and conversations to match the puppy to your home and family. 
Boy 1: Jester, (Litter name Rook), True Black (reserved in Oregon)
Boy 2: Kona (Litter name Rime), Seal with snip (reserved in Colorado)
Girl 1: Sora, Agouti (reserved for Corvus)
Boy 4: Muskrat (Litter name Avis), Agouti – Available
Boy 5: Frost, Seal with blaze (Reserved in Tennessee)
Jester (Reserved in Oregon), Corvus Justa Round the Riverbend
Rime (Reserved in Colorado), Corvus A Thousand Miles
Sora (Reserved), Corvus As the Crow Flies
Avis (Reserved in Washington), Corvus Excellent Adventure
Frost (Reserved in Tennessee), Corvus Miles to Go Before I Sleet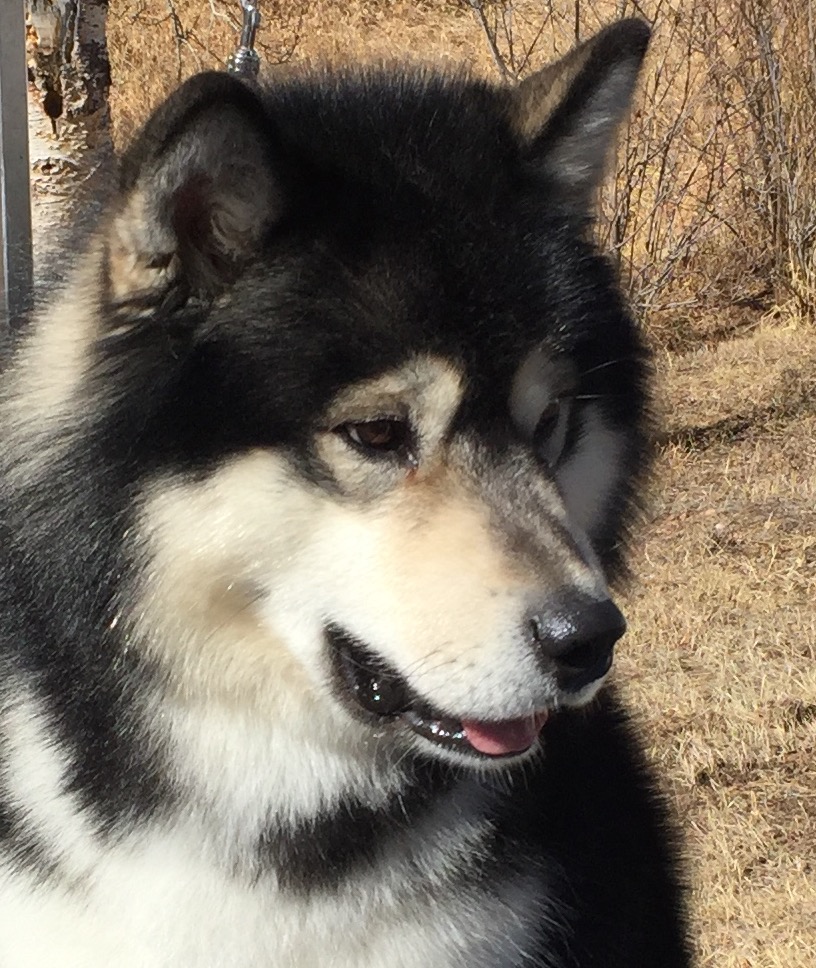 Sire: CH Adair'n'Hug MTS Mark of Excellence "Miles"
Miles is a lovely boy with excellent structure, a strong producer, and at 7 is aging very well! His father Marcus (12 years old!) is still jumping up into SUVs and bending crate bars, and we hope that same health goes from father through son into our puppies. 
AKC#: WS682758-01
Agouti
Hips: OFA Excellent
Elbows: OFA Normal
Eyes: CERF clear
Cone Degeneration: Clear
PN: Clear
Miles was bred by Joe and Robin Hug. Read more about Adair'n'Hug here: Adair-n-hug.com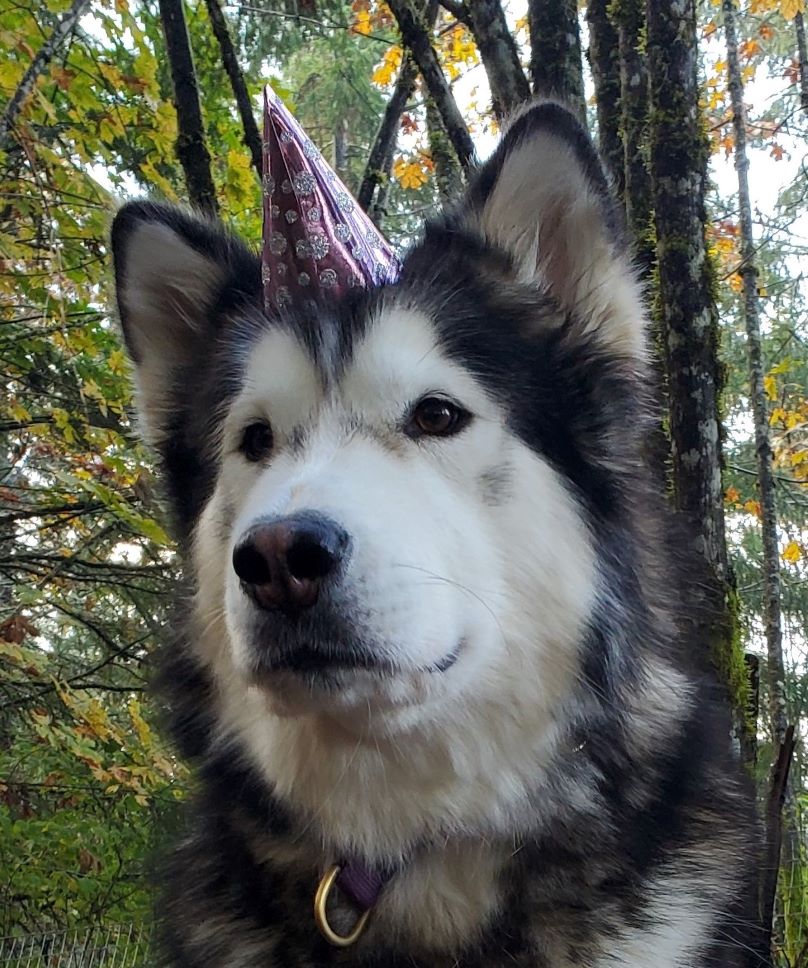 CH IntCH Inuyak Nothing Compares to You CGC TKN VHMA VHMP "Renka"
Renka is a delightful girl with a beautiful front and sweet temperament to share with all the peoples. Her waving plume of a tail lets us know her mood, and she thumps the ground with it any time someone speaks to her. She is dog-selective, resilient to startling events, and so very soft with people. 
AKC#: WS682758-01
Gray and White with dilute sable
Hips: OFA Fair
Eyes: CERF clear
PN: Clear
Embark Results: Here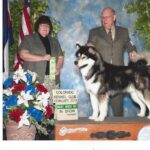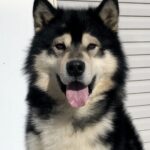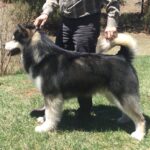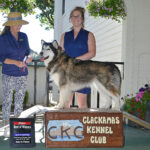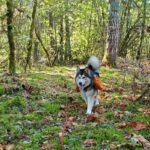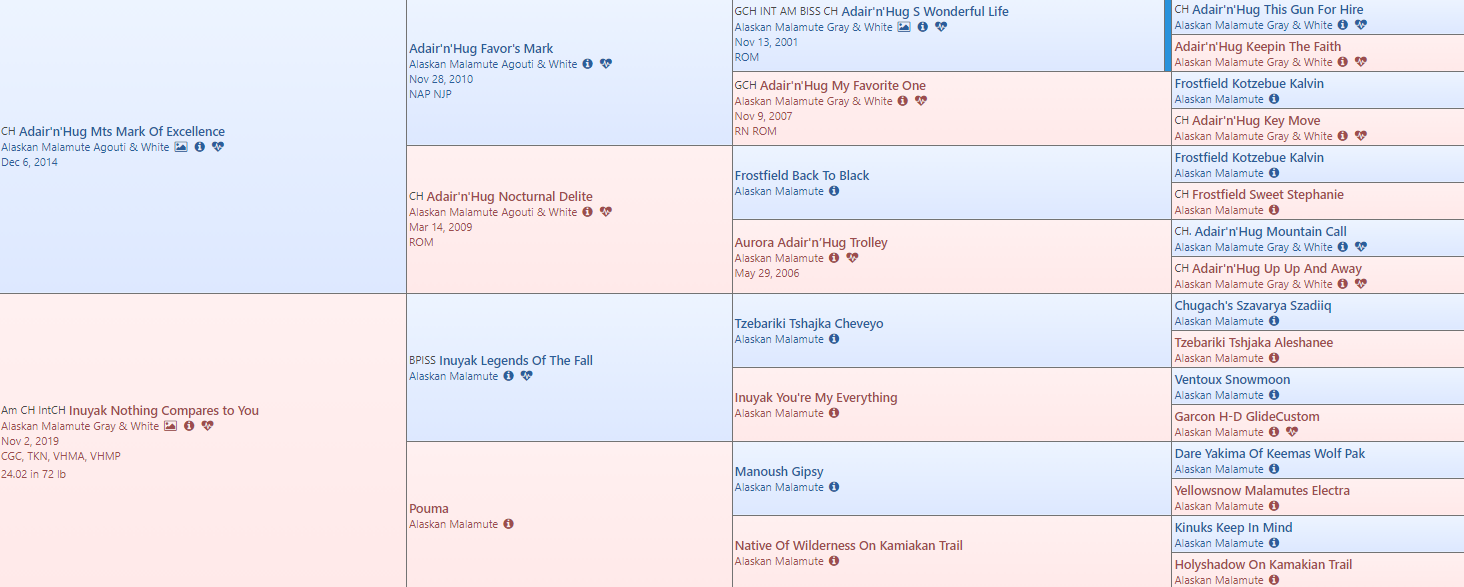 Socialization and Rearing Notes
Neutral exposures are things the puppies have happen around them just as part of Life. There is no intent to develop a happy Conditioned Emotional Response (CER+) or desire to approach, just enough exposure so the puppies know the thing is not a threat or something to fear. 
Surfaces

Turf
Leafy forest floor
Gravel
Concrete
Carpet
Laminate
Smooth tile
Wire grating

Sounds

Playlists that include Animals, Big Sounds, and Urban Noises
Dishwasher
Laundry
Blender
Microwave
Robot vacuum
Vacuum (they still think it needs watching)
Metal objects banging
Water running
Rain
Leaf blower

Shiny and reflective things
Knee scooter
Umbrella (still a bit startling)
Broom and mop
People jumping around
Unfamiliar dogs: Whippets, border collie, chihuahua
Other animals: Cat
Obstacles: cat tunnel, dog tunnel, kid pop up, kid pool with water, kid pool with bottles, fit bones, ramps, platforms, teeter, wobble board, bosu ball, logs, bricks, rocks, etc
Public places: Petco, Winco parking lot
Positive exposures are things the puppies are getting some classical conditioning to ENJOY! These are things where we strive to get a happy Conditioned Emotional Response.. 
Note these are all in process and will need continued effort by puppy
Clicker (done!)
Dremel
Restraint and body handling
Mouth exam
Sounds

Grooming dryer
Barking dogs
Loud streets

 Grooming tools
Crates
Water
Bathtubs
Strangers (37 and counting)
Crate in the car (if they are sleepy or eating they do well, otherwise there is a bit of WOE)
These are behaviors that have been actively taught. Keep in mind, these are puppies so they aren't perfect, but they are quick to learn!
Hand target
Manding (sit and look at person for attention)
Litter box (Nearly 100% when in their pen, closer to 50% when running around the house)
Recall to PUPPYPUPPYPUPPY (eh… if you are interesting)
Sit at door/gate before it opens (definitely a work in process)
Add Your Heading Text Here