The Journey litter was born 12/1/2022. Puppies will be ready to go to new homes approximately February 2023.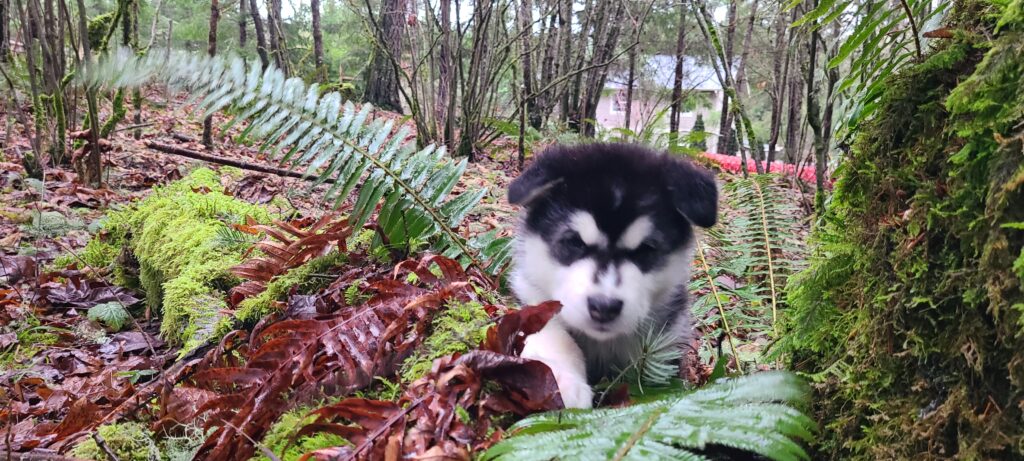 Corvus Puppies - What you can expect from me
Corvus puppies are whelped and raised in my home. They play in the garden, meadow, and forest on our 5-acre homestead. Puppies will be used to normal household sounds like dishwashers and vacuum cleaners, and even chainsaws. I employ modern, science-based puppy raising and socialization (Avidog and Puppy Culture) programs. These programs ensure your puppy will be more prepared for a variety of experiences and the foundations of good manners already begun when they go home to you. Note that foundations are started, not finished. They are still babies! My puppy rearing includes but is not limited to:
Early Neurological Stimulation (ENS/Biosensor)
Early Scent Introduction (ESI)
Neutral exposure to sounds like fireworks, gun shots, children, barking dogs, and more
Regular socializing with people of varying age, size, color, and ability
Physically and mentally stimulating environment appropriate to their age
Problem solving exercises appropriate to their age
Introduction to cars, livestock, parking lots, bicycles, and many other stimuli, both urban and rural
Socialization with adult dogs other than their mom
Visits to safe locations, with disease prevention protocols in place 
Introduction to basic husbandry like body handling and nail trims
Introduction to basic house skills like separation training, crate training, and potty training
Introduction to basic obedience skills like impulse control, recall, and sit
Involvement of my local dog training facility, Wonder Dogs, and their stellar trainers for Puppy Socialization and Puppy Parties
Expectations of Puppy Buyers
When you apply for a Corvus puppy, we expect the following:
You have researched the breed and understand the common challenges and traits of an Alaskan malamute. Check our "Realities of living with a malamute" to get started.
You know they are not an "easy" breed, and will thrive as your partner not as your servant
You will dedicate time to continuing positive socialization during the critical 16-week socialization period
You will provide the quality food, social bond, mental stimulation, and physical exercise your dog needs to thrive
You have considered how a malamute will fit into your life, now as a puppy and later as an adult. If there are situations you aren't certain of, I can help you figure out a plan
While you don't have to be super rich, you have a financial plan for routine veterinary care and emergencies. I personally like health insurance (Health Paws and Trupanion, for example) and Care Credit, but select what fits your budget and lifestyle.
Depending on how you are picking up your puppy, there will be things you need to have with you. Our puppies come with:
AKC registration (full or limited)
Microchip registered in Breeder's name; your name can be added
Litter health record that details deworming, vet visits, immunizations, and any other relevant medical information
Veterinarian Health Certificate
Puppy collar and leash
Training book
Embark DNA results
Stuffie or blanket with their littermates' scent
Toppl or Kong food toy
Food samples

Lifetime breeder support

Invitation to our Corvus Community facebook group for all our puppy buyers
In 2022/2023, the total price for a Corvus puppy is $2,250. The price is the same whether the pup is a pet or show prospect. Refundable deposits are due when the puppies are 7 weeks and I can confirm that I have a puppy suitable for you, and is applied to the puppy price. Payments can be made as cash, cashier's check, Paypal, or through Good Dog. 
I specifically select a puppy that I believe will match your lifestyle and expectations. While the training and socializing that YOU do with your puppy will have huge impacts on how that puppy turns out as an adult, I temperament test to find out which puppy is the best fit for you right now, at their baseline. For example, a shy puppy will be better suited for a calm, child-free home, whereas her (more) energetic and confident brother would fit better in a loud, busy household. 
I do take color and gender preferences into account, but the most important thing is that you and your puppy match. I want a Swipe Right, not a Swipe Left.
Puppy Application and Contract
You made it this far! If all of that sounds like the kind of puppy you want AND you have read "Realities of living with Malamutes, carry on!
Our puppy application is a bit long. There are no "wrong" answers, just incomplete ones. It is completely OK to say "I'm not sure" if you just don't have enough information to answer – the purpose of the application is to give me enough information to match you with a suitable Corvus puppy and help you avoid common pitfalls.
At Corvus we understand that written forms aren't accessible for every person. Please reach out via Email if the format of this application is a barrier so that we can find another method to gather this same information.