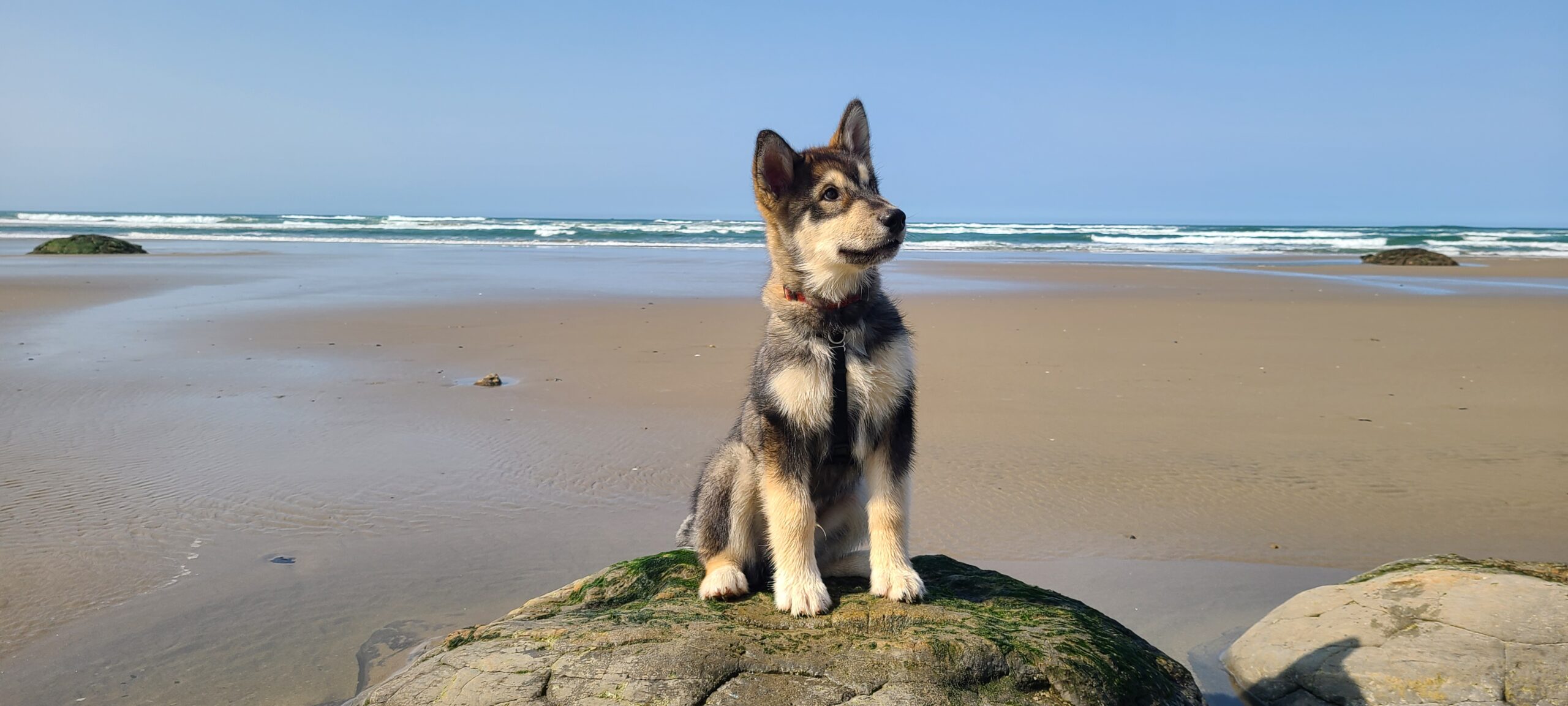 Muskrat has a home in Washington!
Cuddle-bug Muskrat (Litter Name Avis) was looking for an Excellent Adventure partner. He is EASY to train! Very smart, good memory, and thinks about what you're asking him to do. Reward-based training will bring out the best pupper he can be.
Avis has a nice foundation from Puppy Culture and Avidog plus additional training. He knows how to learn via luring, shaping, and capturing. His head whips around when he hears a clicker or the marker word "Yes!" 
Avis frequently disengages from his activities to come check in with me for cuddles or snacks, and looks to humans for help when he is in an uncertain situation.
This puppy is a cuddle-bug, and will be happy leaning against your leg and napping beside you. He moves smoothly with good extension and is fearless about moving on, over, and under obstacles. He has a presence that draws the eye tempered with a soft expression and general delight for people.
Avis is from our 
Journey
 litter out of 
CH Inuyak Nothing Compares to You CGC TKN VHMA VHMP
 and CH Adair'n'Hug MTS Mark of Excellence, born on 12/1/2022. On his father's side, his grandfather Marcus (Adair'n'Hug Favor's Mark) is titled in agility and there are multiple show champions. His mother's side is full of active working malamutes in Europe.
Transport via ground (Oregon) or air (SeaTac) possible.
Sit
Down
Wave
Touch a hand target
Calm crating in the car
Offers eye contact
Wait for the crate door to open before exiting
Nail trims with clippers
Body restraint
Quiet crating all night long
Collar and harness handling
Beginning to loose leash walking.
Beginning to mat/place
Strange dogs: whippets, border collies, beagle, malamutes
Strange puppies: poodle, golden retriever, chihuaua, mixed breeds
Cats
Horses
People of multiple genders, ages, races, facial hair, hats
Accessibility devices including crutches, canes, wheelchairs, and knee scooters
Traffic
Gunshots
Too many surfaces to count
Obstacles
Forest, coastal beach, river, and meadow
Stores, including Coastal, Wilco, Petco, Home Depot, and Cabela's
Sound playlists, including screaming children, thunder, fireworks, etc